Companies House is now usually taking around 8 working hours to form a company. If you need your company quicker than this and it's before 3pm, there is a "guaranteed same day" option available.
About Us
Mobunti Limited ... providing business solutions since 1994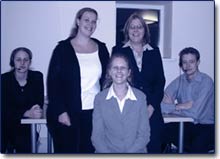 Up until October 2015, Mobunti Limited were known as The Company Merchant Limited. We changed our name but wanted to keep The Company Merchant brand continuing as a trading name. We have developed our own leading online solutions to aid you in running your own business. Whether you are looking for ad hoc online identity checks, online company formations with a same day service, online management of postcodes services or any of our other business offerings, we are here to help
Our company formations services have been running for nearly 20 years. We were one of the first companies in the UK to develop electronic incorporation services in 2000 and have formed tens of thousands of companies.
We've taken our years in the company formation industry and customised our formation packages to make them simple to use for accountants and company formation agents. We've cut out the frills which means you can submit a company within minutes rather than having to skip over bundled packages that you don't want. Got a question? Just give us a call or contact us online . Our team are on hand to help